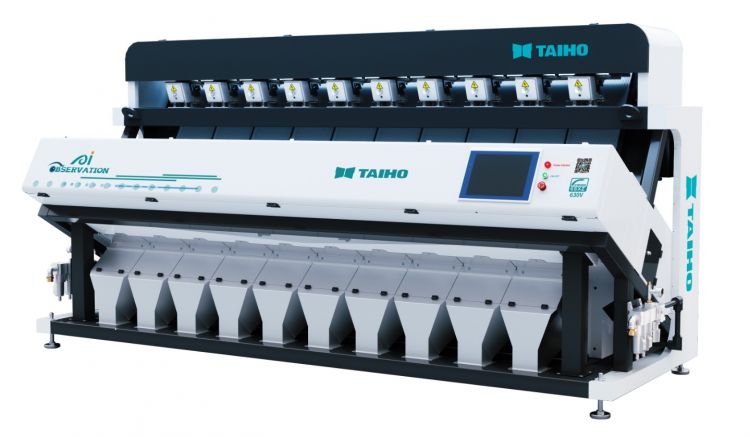 Color sorter Observation
Taiho Observation color sorters are a new generation of Taiho sorters with artificial intelligence.
Major improvements implemented in the Observation series

TAI (Artificial Intelligence Technology) + PLATFORM CONNECTIVITY
1. Interaction
Running Data Statistics

System status monitoring
Self-test and fault signaling
2. 4G Gateway
Multiple access via modem, 4G/5G, WIFI
Connect the color sorter with your mobile phone/laptop at any time.
3. Remote control
Remote contro
Software backup
Software update
New touch screen
CPU frequency up to 2.0 GHz/4 cores
1 GB RAM compared to 256 MB on the old screen
Memory 8 GB eMMC
10 times more processing power
Support for the newly developed intelligent sorting algorithm
Border enhancement and weakening function
Intelligent detection of defects on the edge of materials
Optical improvements

Camera
New A60 RGB camera up to 350 million pixels
clearer picture
SINR (Signal to Noise and Interference Ratio) 30% higher
Lighting
Outdoor lamp, greater distance between panes to avoid interference from dust
Double row LED, polygonal, high illuminance, low temperature rise, increase color difference contrast
Binarization
Only the background is blue, easy to configure programs
Background protection function
Binarization parameters are self-defined
Wiper
Intelligent cleaning
Closed cylinder (option)
Mechanical improvements
Hard anodized chute, smooth feeding, less material jumps
Vibrator with mirrored stainless steel, anti-adhesive
Two stage vibration for special materials
Dust removal system on the top of the chute, pressure adjustable (option)
Improved air supply, more stable ejector pressure
Next generation intelligent sorting