TAIHO Optical Sorting Machine
We offer Taiho color sorters for highly efficient optical sorting by color (cleans products from impurities by 99.9 9 %) of a wide range of crops - amaranth, peanuts, peas, mustard, walnuts, buckwheat, clover, buckwheat, buckwheat, raisins, potatoes (straws , cubes, etc.), pine nuts, hemp, coffee, corn, sesame, flax, onion dried (chopped), dried garlic slices, alfalfa, mung bean, minerals, carrots (straws), chickpeas, hulled and unhulled oats, oatmeal, paprika, pegmatite, plastic, sunflower, striped sunflower, sunflower (kernel), spelt, millet, millet groats, wheat, wheat and barley (mixture), PET flex (flakes), PET granulate, rapeseed, milk thistle, Indian rice, rice groats, rye, camelina, safflower, beets, seeds of various crops (seeds rice, beet seeds, phacelia seeds, etc.), salt, sorghum, soybeans, glass, tomato, white beans, red beans, pistachios, hazelnuts, lentils, barley, and many other materials and products (content in sorted product undesirable inclusions reaches less than 0.01%).
Color sorter for grain cleaning
Taiho color sorters are a high-tech product, for the manufacture of which components from the world's leading manufacturers (from Japan, the USA and the EU) are used , which guarantees its smooth operation and high quality sorting. Our customers confirm that Taiho color sorters are the best value for money solution on the market.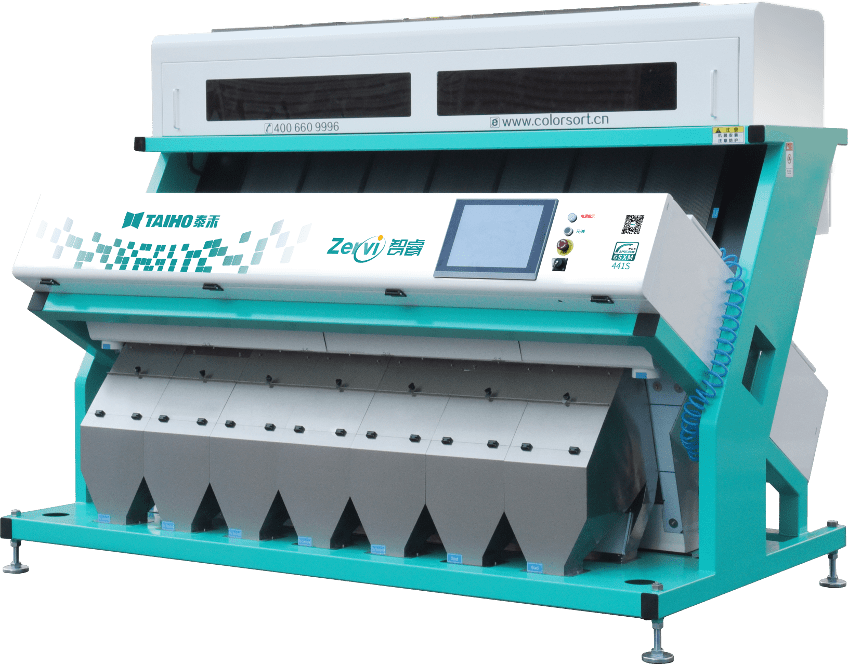 Buy color sorter
Depending on the type of product and sorting tasks, we offer the following types of color sorters:
Channel sorters with full-color RGB cameras, the number of trays from 1 to 16, with the possibility of automatic sorting of products;
Channel color sorters with full-color RGB and NIR (infrared) cameras with the number of trays from 1 to 16, with the possibility of automatic sorting of products;
Belt color separators.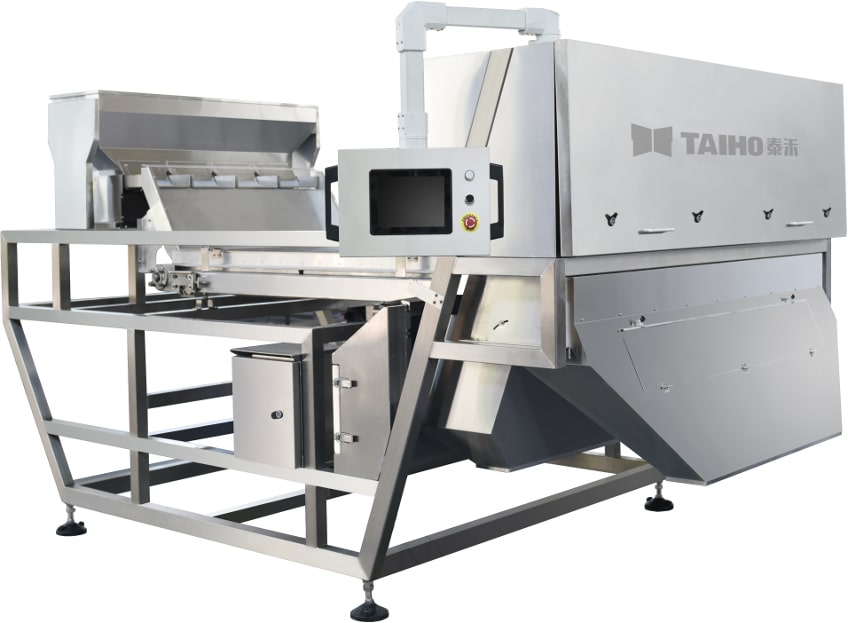 Taiho color sorters have a number of international CE, ETL certificates. Production is certified according to international standards:
Quality management according to ISO 9001, environmental management system - According to ISO 14001, occupational safety management complies with OHSMS 18000. Taiho is the only color sorter manufacturer in China that has received the title of China Top Brand Of Crop Machine, won two gold medals in 11th and 12th International Exhibitions grains and oils.
We have extensive experience in supplying color sorters on the territory of Ukraine for sorting a wide range of crops, salt, minerals, glass, plastic, etc. Depending on the tasks set, we are guaranteed to be able to offer the best solution. Please contact us in any convenient way.
You can see the video presentation of color sorters and the main activities of TAIHO by clicking on the following links.
The TAIHO color sorter is an ideal option for businesses that want reliable and efficient equipment at an affordable price.